The is the simplest bike storage solution to date!

Are you tired of having no space where to place your bikes? Now, saving space economically is possible from Wheels on the Wall Bike Mount. Keep your garage or indoor space tidy and conveniently store your bike for your next trip!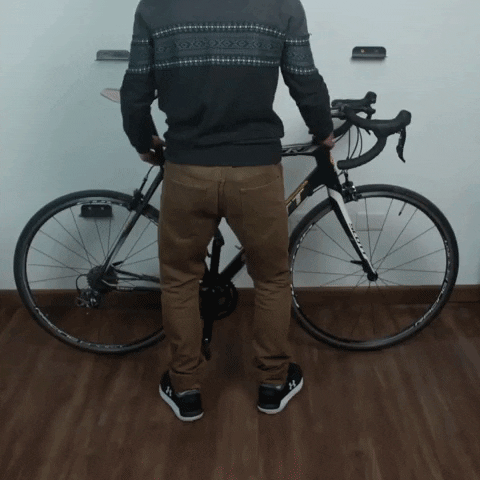 Wheels on the Wall Bike Rack benefits:
1. Safe & Secure: It fixes your bike at a 25-degree angle so that the bikes can be stacked together. In this way, you can install up to three bicycles on a 2.5-meter-high standard wall. Its seamless, smooth, and simple design is perfect for homes or garages. Its smart design does not require contact with the frame, thereby reducing the risk of scratches.
2. Versatile: Suitable for all kinds of bicycle pedals, whether you are a road bike, mountain bike, or even an electric bicycle. It is very convenient to place the bicycle, no other complicated steps are needed, which saves you time.
3. Suitable For Multiple Occasions: Wheels on the Wall Bike Mount is elegantly designed to look good in any home, apartment, condo, office environment, or garage. Live the cycling lifestyle that you want without sacrificing style!
INSTALLATION STEPS:
Mark the mounting holes on the wall.

Use M6 drill bit to make a hole, about 32mm deep, and clean it up.

Insert the expansion screws.

Tighten the screws and check if they are firm.

Find the installation location for the trailer.

Repeat steps 1-4.

Installation is complete.
OUR GUARANTEE
We're proud to have happy customers from all around the world. Having made some of the most innovative products on the planet, we want to make sure we back that up. If you're not 100% satisfied with your purchase of the Wheels on the Wall Bike Rack, you can return it for a FULL refund within 30 days AFTER you have received your order. 
If you want to hear what others say about The Wheels on the Wall Bike Mount, check out the reviews below. They're all genuine reviews from customers just like you. 
Let us know if you have any questions or need anything. We're here for you.